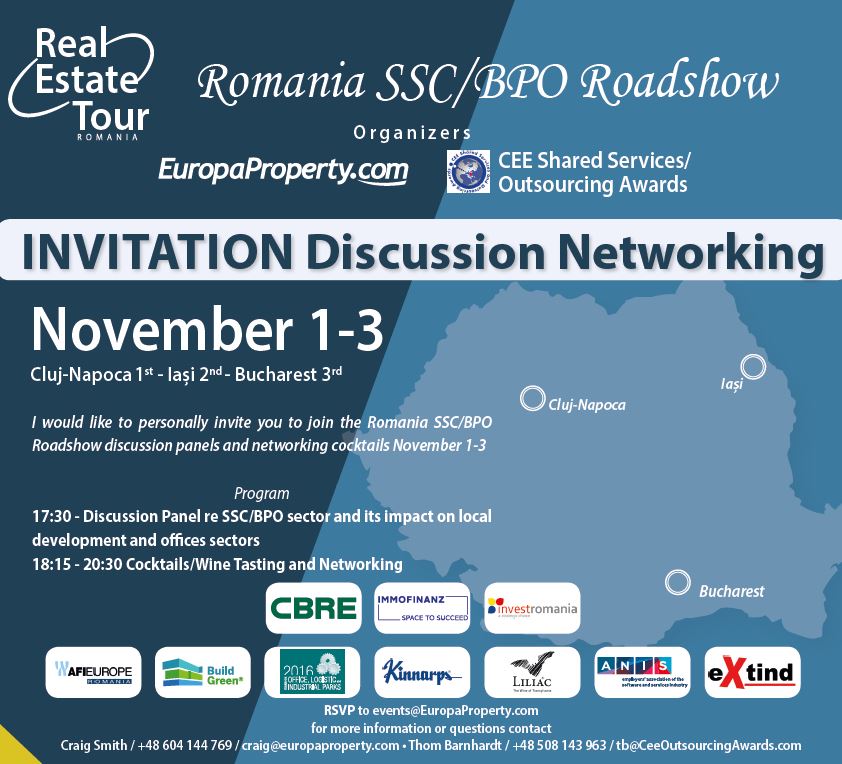 Invitation – Romania SSC/BPO Roadshow
By ARIES Moldova In Evenimente On 24 octombrie 2016
---
You are cordially invited to the Romania SSC Roadshow, to be held in 3 cities: Cluj, Iași and Bucharest. All Execs from SSC/BPO/ITOs are Complimentary. Invited Guests are primarily top execs at SSC/BPO/ITO companies, city officials, developers, and investors
The Romania SSC Roadshow is to promote SSC/BPO/ITO opportunities in Romania. Following up from our excellent SSC Cocktails in Bucharest last year, we are expanding the concept this year, to include Cluj and Iași – two cities that are increasingly on the "SSC/BPO map" for Romania.
AGENDA – Wednesday, 2 November 2016, 17.30 – 21.00
Iași (Unirea Hotel & Spa, Piața Unirii 5, Iași)
We'll start at 17:30, with a 45-minute Panel discussion on SSCs/BPOs and what developers are doing to meet the growing needs of SSCs.
18:15-21:00 Cocktails, Wine Tasting, Networking and light Dinner.
RSVP
Please do reply and confirm in the coming days to [email protected]. We expect about 200 top execs in total: 100 in Bucharest, and about 50 in each of Cluj and Iasi. We are inviting primarily the top Execs who run SSCs/BPOs/ITOs in each city.
For more information or questions contact
Craig Smith / +48 604 144 769 / [email protected]
Thom Barnhardt / +48 508 143 963 / [email protected]
www.CeeOutsourcingAwards.com
We will also update you on our plans for the 5th annual "CEE Shared Services and Outsourcing Awards", set for 2 February.
---